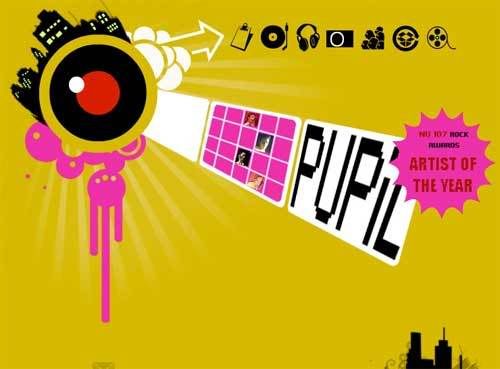 I woke up to the news of Pupil's official website is finally up. I remember before that the domain name was pupilopolis.com but yeah, I think they had some problems with renewing the domain name which they refer to as a "bad case of organizational astigmatism".
The design is very urban. It used the color yellow with a shade called Mimosa (if I'm not mistaken) as its main background color. And it's a full flash website. It's not slow to load but perhaps if you run on a dial-up, it will be really slow to load.
The location of the navigation (or the menu) was very obvious. Getting to see the profiles of the the members of Pupil was not so obvious. It has very small thumbnails of them that people might actually think that it's only a design element.
And the pink badge on the right with the red and black text, I'm not sure about color red on the text. Overall, the design is good. It would have been even better if it's not a full flash website though.